A new kind of photo magazine
Auslöser [aʊ̯sløːzɐ] ("Shutter Button" / "Trigger" / "Release"; German; Noun) is a bilingual (German & English) indie print magazine that focuses on the human stories behind the camera. Each issue features four in-depth photographer interviews, a behind-the-scenes reportage and a photographic object in detail.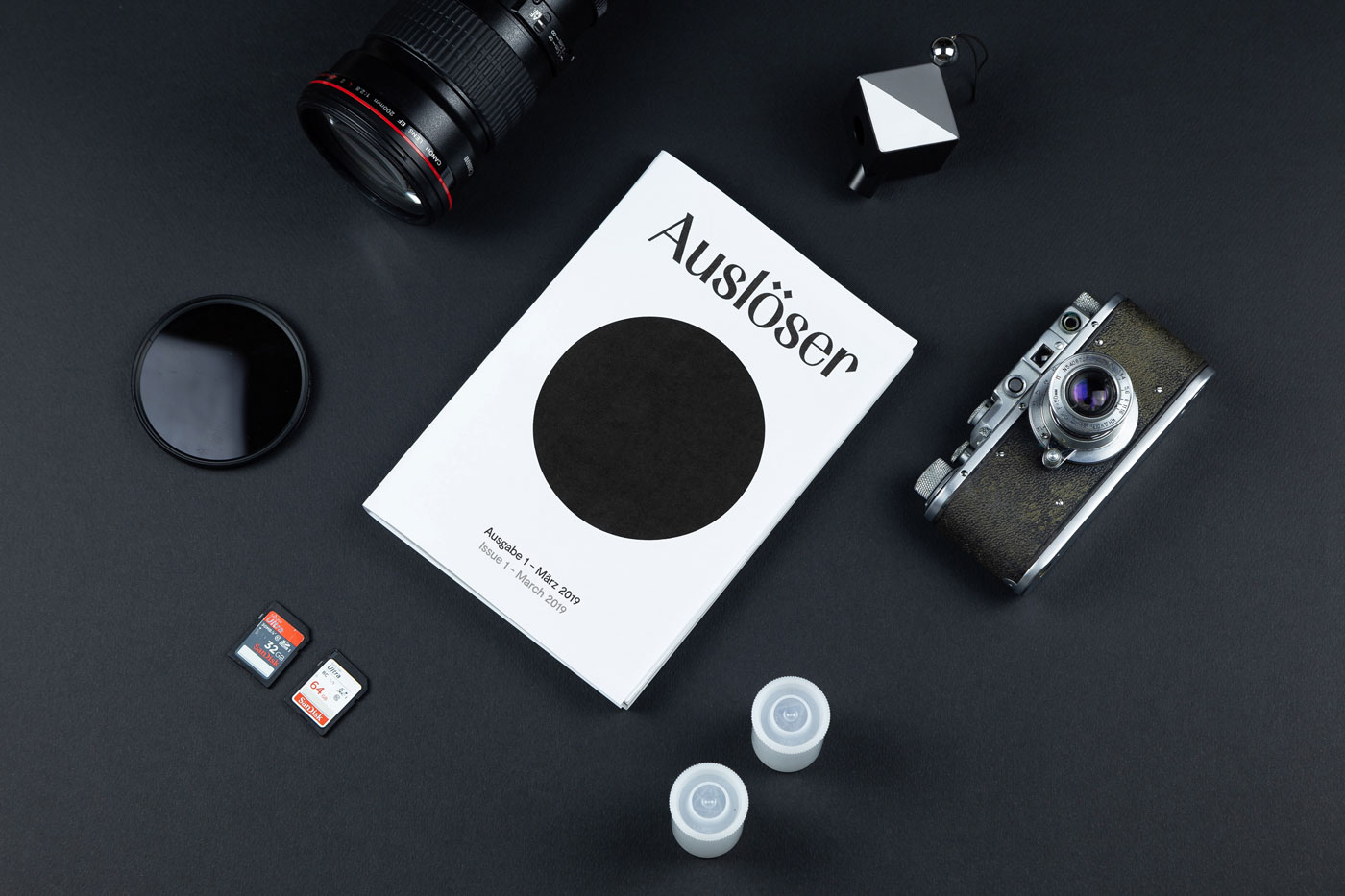 Photo: © Sebastian Gansrigler
Human, not technology
In times when anything and everything needs to exist online and needs to be faster and faster, we go back to the essentials and feature long-form in-depth interviews and photo stories exclusively in printed form.
Out of personal interest and love of photography, we have come to know more and more photographers and listened to their stories. And over time, the idea of ​​creating a publication out of these stories has grown bigger and bigger. With Auslöser, we wish to slow down photography and offer a fresh publication form while presenting a variety of photographers in a reduced, unobtrusive way. We feature the people behind the camera.
Auslöser can be purchased in over 40 carefully selected galleries, museum shops, magazine- and bookstores worldwide from Vienna to Russia, from Portugal to China, and via our online shop. Furthermore, you can find every issue at many universities and in libraries from Zurich to Amsterdam.
We were especially surprised by the very positive feedback we received from all sides. Many even said that Auslöser was more of a book than a magazine. Or as Allan Porter captured his "camera"-magazine (1966 – 1981) in a nutshell, "a museum without walls". In our case, a museum on 160 pages.
Presenting and supporting the most diverse photographers, promoting the discourse of artistic photography and driving it into fresh, unexplored heights continues to be our goal. In every issue, we showcase two women and two men, combining the young with the old, the famous with the unknown and blending each and every background and culture, regardless of themes and categories.
Hard facts
Format: 16 x 22 cm
Pages: 160
Binding: Swiss brochure with open thread stitching
Language: German & English
Price: 20 €
Distribution: Self distribution
Logo typeface: Calyces by Charlotte Rohde
Body typeface: Moderat by Tightype
ISSN 2617-4847
Photo: © Michael Seidler
Auslöser team, from left to right: Martina Schreiner, Kay von Aspern, Veronika Gansrigler, Sebastian Gansrigler, Niko Havranek
Team
Sebastian Gansrigler
Publisher, Editor-in-chief
Born in Austria in 1994, Sebastian Gansrigler now works as an independent photographer for museums, galleries and as graphic designer in Vienna. His education encompasses both media design and media technology. He completed his training to be a professional photographer.
gansrigler.com

Kay von Aspern
Editor
Born in Northern Germany in 1962, Kay von Aspern has been living in Vienna since 2007. Used to be active in IT for a long time. Now self-employed with photography (commissioned photography, workshops) and webdesign. Artistic photography with a focus on urban space. His creations have been exhibited in Germany and Austria as well as internationally several times and were published in numerous print media.
von-aspern.com

Niko Havranek
Editor
Born in 1987, Niko Havranek is a freelance photographer living and working in Vienna. He completed his academic training at Photography College as well as a master class in graphic design at Graphische Vienna, and was an active member of the Free Class at the Academy of Fine Arts Vienna. His focus is on street photography, portraits and collages.
nikohavranek.com

Martina Schreiner
Marketing
Born in Austria in 1984, Martina Schreiner graduated from university in Theatre, Film and Media Studies, Musicology and English and American Studies in Vienna. Years of experience in artist management, agency and marketing, has been living and working in Vienna since 2002.

Veronika Gansrigler
Copy-editing & Translation
Born in Austria in 1989, Veronika Gansrigler completed her studies of transcultural communication in German, English and French in Vienna. Received her diploma for teaching German as a foreign/second language (DaF/DaZ) in 2017. Works for VWU (Vorwissenschaftlicher Universitätslehrgang) as a German teacher while completing her master's in Translation Studies.
Partnerships
Auslöser creates a collaborative network of companies keen on art and culture and presents them as partners in the magazine, on the website, on social media, in the newsletter and at events. Auslöser takes a pass on classic advertising and thus creates a uniform, optically reduced overall design. Both content and layout can take full effect. Advertising in Auslöser means a very minimal logo placement on the first page and on a double page in the middle.
In the press
Analog.Cafe
https://www.analog.cafe/r/ausloser-lqtk
The Eye of Photography / L'Oeil de la Photographie
https://loeildelaphotographie.com/en/the-photographic-magazine-ausloser-is-celebrating-his-second-anniversary-dv/
Novum
https://www.ausloeser.org/wp-content/themes/ausloeser-2021/images/Ausloeser-Novum-Oktober-2019.pdf
Slanted
https://www.slanted.de/ausloeser-photography-in-portrait-issue-1/
derStandard
https://www.ausloeser.org/wp-content/themes/ausloeser-2021/images/Ausloeser-derStandard-November-2019.pdf
Monopol Magazin
https://www.ausloeser.org/wp-content/themes/ausloeser-2021/images/Ausloeser-Monopol-Magazin-Juni-2019.pdf
Fotointern.ch
https://www.fotointern.ch/archiv/2021/03/20/ausloeser-das-andersartige-fotomagazin/
Design made in Austria
https://www.designmadeinaustria.com/project/ausloeser/
Les Nouveaux Riches
https://www.les-nouveaux-riches.com/fotomagazin-ausloeser-nr-4/
Designer in Action
https://www.designerinaction.de/fotografie/ausloeser-vierte-ausgabe-des-unabhaengigen-fotomagazins/
Readers & Publishers
https://www.instagram.com/p/BwSOV4DlYLt/
Hey That's Nice
https://www.heythatsniceblog.com/blog/meetausloser
Design & Paper
https://www.designandpaper.com/photo-magazine-ausloser-focuses-on-the-human-stories-behind-the-camera/
Beruf Fotograf
https://beruf-fotograf.de/2019/03/24/neues-fotografie-magazin-aus-wien/
Stilpirat
https://www.facebook.com/stilpirat/posts/2300870839957830
Indiemags
https://www.instagram.com/p/BxIHGZnhFhJ/
Fotogeschichte Zeitschrift
http://www.fotogeschichte.info/bisher-erschienen/hefte-ab-126/154/buecher-fotogeschichte-154-2019/
Ted Forbes – Art of Photography
https://www.youtube.com/watch?v=umeOAjtmDSc&t=323s
BearBooks
https://bearbooks.se/2019/07/30/ny-tvasprakig-osterrikisk-fototidskrift/
Druckwunder
https://druckwunder.at/2019/04/29/neues-foto-magazin-mit-tiefgang/
Kwerfeldein
https://kwerfeldein.de/2019/04/03/ausloeser-fotomagazin/
Kwerfeldein – Best of Street
https://kwerfeldein.de/2019/09/04/ausloeser-best-of-street/
Obst & Muse
https://www.obstundmuse.com/sebastian-gansrigler/
Magpile
https://magpile.com/ausloser/
Mindsparkle Mag
https://mindsparklemag.com/website/ausloser/
Das Kunstbuch – Marlene Obermayer
https://www.instagram.com/p/BwUcmUjh8J1/
Fotografische.de
https://fotografische.de/blog/fotozeitschriften/#Auslser
Analoge Fotografie
https://analoge-fotografie.net/blog/fotomagazin-ausloeser/
Podcast Martin Dörsch – Bildbesprechung
https://www.martindoersch.at/2019/09/bb096-sebastian-gansrigler/
Contact
Auslöser
Sebastian Gansrigler
Stumpergasse 53-55, Storefront, 1060 Vienna, Austria
Email: office@ausloeser.org
Follow us:
Instagram
Facebook
YouTube