A new kind of photo magazine
Auslöser * is a biannual, bilingual (German & English) indie print magazine that focuses on the human stories behind the camera. Each issue features four in-depth photographer interviews, one company portrait behind the scenes and one camera in detail. The first issue is available since March 2019 shipping worldwide and from selected museum shops, galleries, magazine and book stores.
* Auslöser [aʊ̯sløːzɐ] ("Shutter Button" / "Trigger" / "Release"; German; Noun)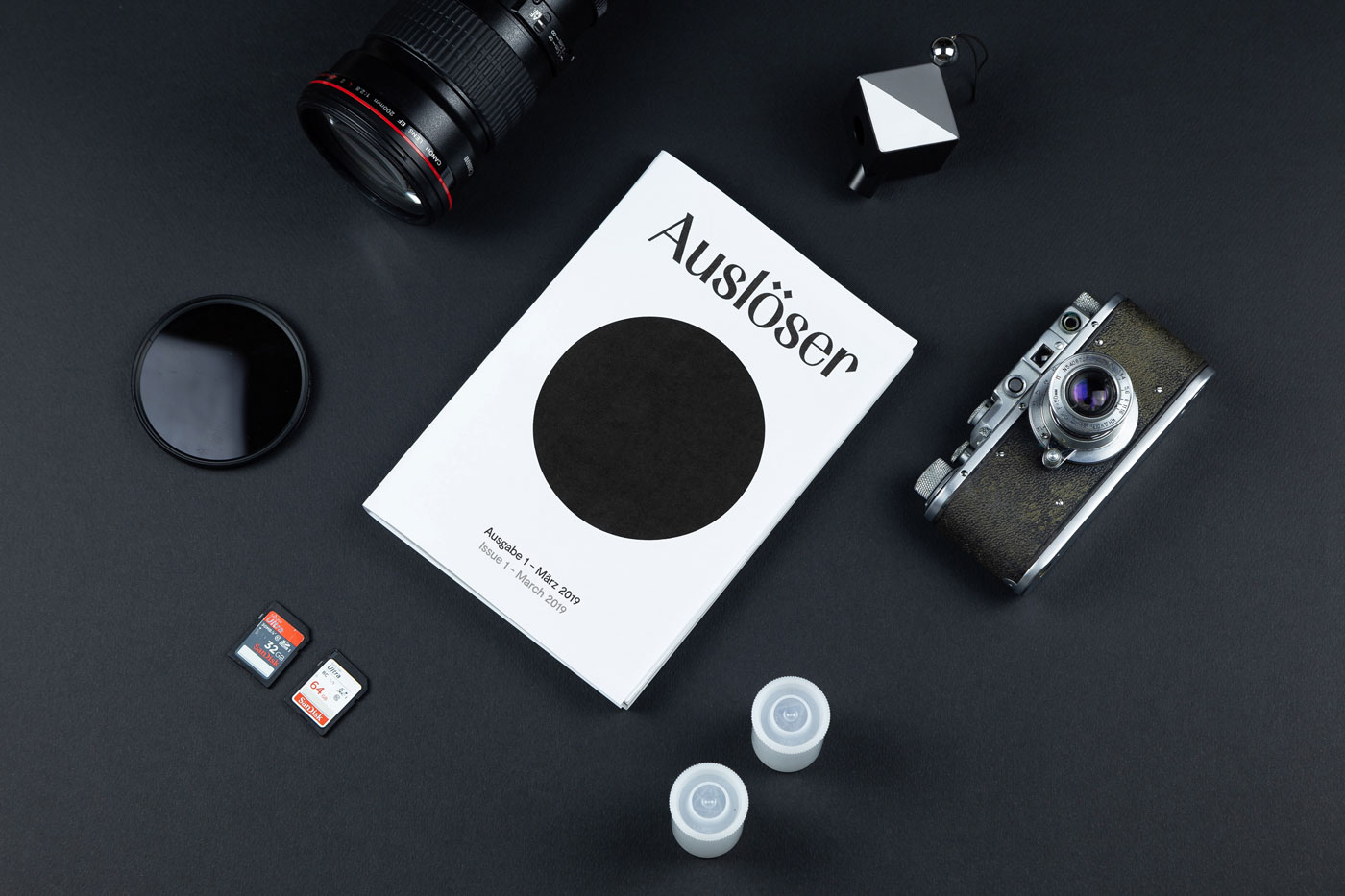 Concept
Auslöser is a creative medium for photographers and art lovers.
Auslöser is available exclusively in printed form, published twice a year from March 2019.
Auslöser is no technical photo magazine, it's about the stories behind the photos.
Auslöser talks about backgrounds, creation processes and personal details.
Auslöser sees good photography and good design as natural, harmonious interaction.
Auslöser organises event series and talks in order to promote and support the photography community.
Auslöser is available in selected bookstores, magazine shops, museums and galleries as well as online.
Hard facts
Format: 16 x 22 cm
Pages: 160
Binding: Swiss brochure with open thread stitching
Published twice a year (March/September)
Language: German & English
Price: 20 EUR / 22 USD / 18 GBP
Distribution: Self distribution
Logo typeface: Calyces by Charlotte Rohde
Body typeface: Moderat by Tightype
ISSN 2617-4847
Human, not technology
By photographers for photographers. Auslöser is divided into three sections. The first section includes four long-form interviews with selected photographers. Stylistically, categorically, in terms of origin and age, four personalities are put together in very high contrast to create strong, exciting views.
The second section shows a company, a workshop, a printing house, a photo studio, a darkroom, and much more behind the scenes and offers insights into otherwise invisible areas.
The third section portrays one camera per issue, with a focus on the aesthetics, less on the technical aspect. Here, especially the artistic realisation is considered.
Auslöser team, from left to right: Martina Schreiner, Kay von Aspern, Veronika Gansrigler, Sebastian Gansrigler, Niko Havranek
Team
Sebastian Gansrigler
Publisher, Editor-in-chief
Born in Austria in 1994, Sebastian Gansrigler now works as an independent photographer for museums, galleries and as graphic designer in Vienna. His education encompasses both media design and media technology. He completed his training to be a professional photographer.
gansrigler.com
Kay von Aspern
Editor
Born in Northern Germany in 1962, Kay von Aspern has been living in Vienna since 2007. Used to be active in IT for a long time. Now self-employed with photography (commissioned photography, workshops) and webdesign. Artistic photography with a focus on urban space. His creations have been exhibited in Germany and Austria as well as internationally several times and were published in numerous print media.
von-aspern.com
Niko Havranek
Editor
Born in 1987, Niko Havranek is a freelance photographer living and working in Vienna. He completed his academic training at Photography College as well as a master class in graphic design at Graphische Vienna, and was an active member of the Free Class at the Academy of Fine Arts Vienna. His focus is on street photography, portraits and collages.
nikohavranek.com
Martina Schreiner
Marketing
Born in Austria in 1984, Martina Schreiner graduated from university in Theatre, Film and Media Studies, Musicology and English and American Studies in Vienna. Years of experience in artist management, agency and marketing, has been living and working in Vienna since 2002.
Veronika Gansrigler
Copy-editing & Translation
Born in Austria in 1989, Veronika Gansrigler completed her studies of transcultural communication in German, English and French in Vienna. Received her diploma for teaching German as a foreign/second language (DaF/DaZ) in 2017. Works for VWU (Vorwissenschaftlicher Universitätslehrgang) as a German teacher while completing her master's in Translation Studies.
Partnerships
Auslöser creates a collaborative network of companies keen on art and culture and presents them as partners in the magazine, on the website, on social media, in the newsletter and at events. Auslöser takes a pass on classic advertising and thus creates a uniform, optically reduced overall design. Both content and layout can take full effect. Advertising in Auslöser means a very minimal logo placement on the first page and on a double page in the middle.
We are very thankful for every support. Check out our partners here. If you are interested in a partnership and collaborations with us, feel free to contact us.
Contact
Auslöser
Sebastian Gansrigler
Liniengasse 2B, Storefront (Gassenlokal), 1060 Vienna, Austria
Email: office@ausloeser.org
Follow us:
Facebook
Twitter
Instagram